The History of NORMAC
In 1938, Charles E. Norton and Francis A. McMurray joined forces to become Norton McMurray. Both men had previously been involved with the designing and manufacturing of natural gas products and they decided to come together as one company. One of their first tasks was designing and manufacturing fittings to help with the corrosion problems affecting the natural gas piping underneath the city of Chicago. Upon completing this task with much success, NORMAC quickly became a well-known and trusted source for compression fittings used by the city utilities. It was not long before more than just the utilities were coming to NORMAC for their gas distribution needs. In a short time, NORMAC was providing quality products to utilities, wholesalers and distributors across the nation.
Originally located in the Windy City, NORMAC took up residence in Geneva, Illinois in 1967. At that time, Geneva was a little known suburb far west of Chicago. The new building at 2570 Kaneville Court housed the offices, machine shop and assembly area. In 1980 a need for more space came about and a second building, adjacent to 2570, was leased and became NORMAC'S new machine shop.
NORMAC has stayed under the leadership of the McMurray family, with Glenn McMurray as the current President. The company continues to grow and find new markets for their products. They are committed to providing their customer the best product and service capitalizing on lean manufacturing techniques.
The building at 2570 Kaneville Court still stands today. NORMAC'S offices and assembly shop are located in this building.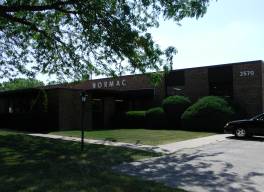 Norton McMurray Manufacturing Facility
2570 Kaneville Court, Geneva, IL